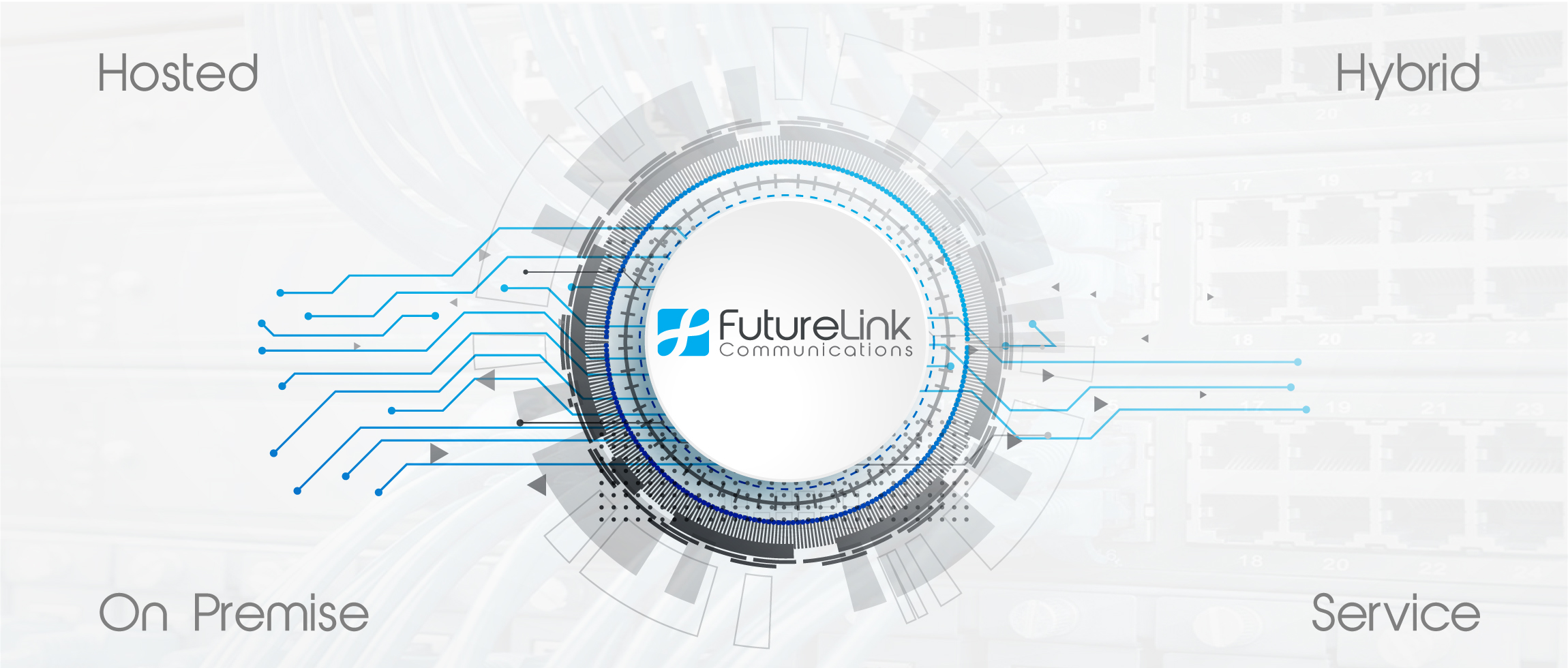 Business Phone Systems: On-Premise, Cloud Hosted & Hybrid
Business phone systems used to be expensive capital purchases, allowing  only the largest companies to have the most sophisticated features. How, where, and when we communicate is vastly different from 20 years ago. Today, on-premise and hosted solutions provide flexible and powerful unified communications features, available via leasing, renting and purchasing options, allowing all businesses to have improved efficiencies and productivity. At FutureLink Communications, we know that every business is different, and has different needs and requirements for their office communications. We will show you the best choices for on-premise systems, cloud-based business phone systems, and cloud-onsite-hybrid, ensuring you're able to make an informed decision to get the features you want, without paying for what you don't need.
Small Business Telephone Systems
Avaya IP Office provides your small business telephone system with large-scale communication and collaboration features. Avaya provides a single solution for all your communication needs providing powerful features. Avaya IP Office 500V2 also provides great scalability with a single appliance being able to support 384 users. Avaya IP Office has also been continuously supported since its release in 2002, protecting your business phone systems investment and delivering a stable platform to base your business communications on. Whether your looking for a phone system for 3 people or 500, Avaya IP Office provides your business with a professional outfacing image and strong collaboration features.

Hosted Business Phones Systems
Cloud based office telephones are phones that have the main PBX, or "brain", hosted in an off-site Data Center. The PBX inside the Data Center communicates with your phones and other end points over a private or public internet network. The Data Center is responsible for keeping the phone system, and other equipment that they house, online. Hosted solutions have become popular with business owners recently due to the ease-of-use and lack of need for in-house specialists. Smaller companies have the biggest advantage, as they can access the most powerful features without having to invest large amounts of capital or technically complicated infrastructure. Hosted phones are also exclusively IP-based, which can reduce the need for separate wiring and jacks. Hosted phone solutions are priced on a per-seat-per-feature model. This allows for a simplified roll out that is easy to understand and manage. This pay-as-you-grow model also allows for flexibility when adding and removing users from the system, providing a predictable and easy to understand cost of ownership.
On-Premise Business Phones Systems
On-premise PBX phone systems are solutions that are installed and run at your place of business. Usually found in telecommunications or electrical rooms, they are connected directly to your phones, or can be connected over an IP network, just like Hosted Systems. On-premise solutions are the most cost-effective way to improve your business telecommunications. While previously synonymous with high capital costs, sophisticated, fully customizable on-premises phone systems are now affordable to most small businesses. Options for lease-to-own permits an "OPEX" , or fixed monthly budget model. On-Premise solutions offer the most advanced customization, allowing personalized, multi-layer Auto-Attendants, CRM integration, music-on-hold, and support for digital and analogue appliances such as Fax Machines, Paging Systems, and more. We offer a variety of Service Plans, providing you with highly trained and certified technicians to ensure your phone system is optimally maintained and updated. If you prefer, you can manage the system yourself via an easy to use login portal, empowering you to customize your phone system in real-time.

Hybrid Business Phone Systems
A hybrid model permits the best of both cloud-hosted and on-premise worlds. Whether its for redundancy, backwards-compatibility, feature or capacity enhancements, or for other reasons, a Hybrid Phone System provides the ultimate in flexibility and resilience. Use the existing infrastructure from previous phone investments, while upgrading only key components as needed for operational cost reductions or to introduce new technologies. This solution gives businesses a chance to adapt to business changes, while adopting new technologies in a controlled manner. Business continuity is ensured while gently migrating your team into the future conveniently, at your own pace.  Integrate remote workers simply and quickly by connecting them to your cloud, or your office – or both. Hybrid systems can bridge the gap between invested legacy telephone solutions and today's Unified Communications needs when you are ready to make the change.

Powerful Unified Communication Tools
Collaboration and flexibility are increasingly becoming more important as workers roles and their environments evolve. With over half of today's workers conducting business at least partially from home, connecting your work force is more imperative than ever. Unified Communications lets your team access their important documents on the go, and empowers them to collaborate from any device, anywhere. We have more channels available to connect with clients and teams, no matter where they are. A unified communications platform ensures that everyone is able to receive important information, any time or place.
Today's larger enterprises avoid expensive, time consuming travel by meeting "face-to-face" through high definition audio and video collaboration. Secure, all-in-one, over-the-top solutions drive higher productivity and enhance your meetings. Remote workers will feel included in business operations, improving unity and morale. Meet face-to-face with anybody, worldwide, anytime. With Cloud or premise-based options, your business can experience powerful enterprise-grade video conferencing rooms with simplicity, and cost-effectively. Contact us to learn more about what Equinox Meetings Online can do for you and your business.
Optimize Customer Service
Responsiveness is becoming more important in today's active 24/7 world. A missed call, ignored email or un-responded IM text message can quickly and permanently cost your business. Ensure that your team is equipped and able to meet your customers' growing demands with a robust and reliable Unified Communications and Collaboration solution.
Unified Communication Tools for Your Business Phone System
Mobility Allow your Remote Workers to have the same features available, as if they were in the office
Business Continuity Disaster Recovery programs, managed 24/7/365 by our team of professionals, ensure your business stays online.
Scalability Pay on a per-User, per-month model, giving you predictable monthly costs and simple scalability.
Data Integration Always be reachable with voice & data integration, unified communications, and more.
Voicemail-to-Email Stay on top of all your phone calls with the popular voicemail-to-email feature


FutureLink Communications is your Authorized Avaya Partner, certified as experts in Small to Medium business Unified Communications solutions, and award winning Avaya Partner in Customer Excellence.
Avaya-certified for Sales, Design, Support and Implementation, FutureLink delivers forward-thinking, budget-driven results to ensure your business-critical communications are efficient and reliable. Headquartered in Mississauga, Ontario, and trusted serving the Greater Toronto Area since 1996, FutureLink's telecommunications experts will evaluate your business objectives so that we can develop the ideal, customized solution to meet your needs. Please see our Avaya Small Business Phone Systems page for more details on Avaya's award winning IP Office Business Communications platform.
Avaya IP Office 500V2, Server Edition, Contact Center
BCM (Business Communications Manager)
Nortel / Meridian / Norstar Service & Support

Not ready to upgrade yet? Let FutureLink ensure that your legacy Nortel and Meridian equipment continues to serve your business reliably. With a full inventory of replacement and refurbished Nortel Desk Phones and PBX equipment, your Nortel investment can continue to serve for years to come. Please contact us to discuss supporting your Nortel equipment with expansions, upgrades, repairs and maintenance, and a choices of Extended Service Plans to meet your goals.